Donate or become a 'friend of our synagogue' if you have enjoyed visiting our unique synagogue as a tourist, pilgrim, or traveler. We truly welcome your generosity and kindness and put all received financial means towards preserving our synagogues beauty and vital community function for generations to come.
Become a 'Friend of Snoa' and enjoy the benefits thereof while at the same time supporting the oldest Jewish community in continuous existence in the Americas. Founded in 1651 and with the current synagogue having been consecrated in 1732, Mikvé Israel-Emanuel in Curaçao is a birthplace of Judaism in the Americas.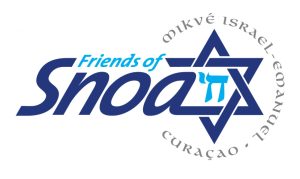 In Judaism, eighteen is the numerical value of the Hebrew word "chai," which means "life." It has therefore become a Jewish custom to give monetary gifts or charity in increments of 18, thus symbolically blessing the recipient of the gift with a good long life. Please also consider making your donation today one that keeps on giving year-after-year by ticking the appropriate box. Our congregation is deeply grateful for each individual chai pledged by friends, which helps breathe continuous life into our synagogue.
Donations can be made in cash at the Snoa's Office during a visit and/or by direct deposit to Mikvé Israel-Emanuel's bank account at MCB no. 870.51000 and/or online at www.snoa.com by credit card or wire transfer from abroad.
Thank you for your financial support of our beloved Snoa and Community. Please consider making a donation in honor of a celebration, a Skaba, a visit, to name a few.
We truly welcome your generosity and kindness and put all financial means received towards preserving our synagogue's beauty and vital community function for generations to come.
There are three ways to donate to our synagogue: 
1
DONATE ONLINE
Donate online
with credit card
2
DIRECT DEPOSIT
Your donation can be deposited directly into our local bank account
Direct Deposit
your donation can be deposited directly into the following local bank account:
Synagoge Mikvé Israel-Emmanuel
Address: Hanchi di Snoa 29
Account number: 87.05.10.00
SWIFT/ BIC code: MCBKCWCU
Bank: Maduro and Curiel's Bank Curacao
Address Bank: Plaza Jojo Correa 2-4
3
remitting (WUPJ,US only)
US donors may get a tax deduction remitting through the WUPJ
US donors, now have the ability to donate funds to congregation Mikvé Israel-Emanuel through the World Union for Progressive Judaism (WUPJ). The WUPJ tax–exempt status allows US donors to take tax deductions for their donations if they are entitled to do so by US law. Whether you are entitled to that tax benefit is a question you need to discuss with your tax advisor.
The procedure to make a possible tax-deductible donation to Mikvé Israel-Emanuel is as follows:
Send a wire transfer to: WUPJ bank: JP Morgan Chase Bank, N.A, PO BOX 182051, Columbus OH 43218-2051 Account title: The World Union for Progressive Judaism Account #: 3926851255 Swift: Chasus33xxx ABA Routing Number: 021000021
Please also send an e-mail to wupj@wupj.org and to office@snoa.com specifying the following: – The amount of the donation, along with – Beneficiary name and location: Mikvé Israel-Emanuel, Curaçao
3. FYI: WUPJ's administration fee is 10% of the contribution received. WUPJ will transfer the remaining amount to Mikvé Israel-Emanuel's account in Curaçao, typically in the second week of every month.
4
CREDIT CARD AUTHORIZATION
You can fill in a form to allow us to charge your credit card
You can download a credit card authorization form by clicking
here
or on the button below. Fill it with your personal and card information, sign and scan it, and email it to
office@snoa.com
. We will charge your account as per your instructions.
become a friend of the snoa
A new initiative for members, tourist, visitors, neighbors, and all who love the Snoa community and history and would love to help support it for generations to come.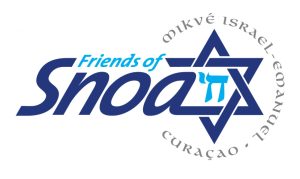 If you want to stop or need to change a recurring payment you set-up in the past, please contact us at office@snoa.com and we will assist you in making your change.